It has become common knowledge that animals in captivity need special attention in order to stay as happy and healthy as their wild brethren. Toys and simple "hide and seek" games keep animals such as tigers, antelope, and monkeys physically and mentally active. Snakes and lizards get special enrichment with different rock textures, water pools and unique smells placed all around their enclosure. Birds get mirrors, bells and other toys (not to mention jungle gyms that would make an ape jealous). Even aquatic animals such as fish, sharks and whales get a daily dose of mental stimulation (hint, those aquariums are not decorated like that just for visitor amusement). But, what about turtles?
Well, this might come as a shock to some people, but there have been documented cases of turtles and tortoises displaying signs of depression and displeasure while in habitats that are scarce, or where they're housed alone. Self injury, lack of appetite, lethargy, and unprovoked "panic attacks" are just some of the symptoms that have been documented in many captive turtles. Discontent can, also, leave a turtle wide open for infection and illness. Luckily, zoos and aquariums have begun to decode the subtle language of turtle behavior. Are you doing the same?
People, your turtles
need
to play! And,
you
need to play with them! We see how our little shelled babies can thrive under attention. But, guess what! It's good for you too!* Following the tips below can ensure a healthy relationship between you and your turtle.**
Environment
Many turtle owners tend to go for a "minimalist" look in their tanks/ponds. A bare tank/pond makes for easier cleaning, and we enjoy seeing our turtles swim around. But, believe me, your turtles Hate.... yes, "Hate" with a capital "H", Hate this.

In nature turtles bask, dig, swim and make a general mess that Mother Nature takes advantage of. Unfortunately, Mother Nature does not offer a reasonable maid service, so we're stuck cleaning up after our little turt-butts. But, a happy turtle is a messy turtle (kind of like children)!



Size
A turtles environment needs to be large enough that the turtle can turn around without having to pull its legs or head into it's shell. He (or she) should also be able to stretch out at any given time without touching a wall.
Texture/Color
Gravel and rocks litter the bottom of my tank. The gravel is small enough that the turtles can dig through it, yet large enough to discourage them from eating it (The benefits and hazards of turtles eating gravel is well documented all over the internet. I'll not get into that here). Mixed in the gravel is a variety of large shells, aquarium gems (various colors), fake plants, different shaped rocks and miniature pots.




Toys
A variety of toys should be easily accessible to your turtle at all times. But, (again like children) your turtles can get tired of it's toys. So, you've got to mix it up a bit.



Inside the environment
The textures mixed in the gravel can keep your turtle entertained hours a day. Digging and foraging never gets old for a turtle. Live fish, shrimp, insects and tadpoles*** can also keep your turtles active mentally and physically. They also double as a snack! But, a good substitute for the squeamish is to float ping-pong balls or rubber duckies. My turtle (Becky) loves to grab her rubber ducky by the beak and drag it around the tank like a dog with a bone.
Outside the environment
I tend to rotate the decorations on the outside of the tank with the seasons. Window decals and ornaments hanging from the top of the tank can keep a turtle curious and inquisitive. When placed correctly, decals and decor can double as "hiding places," giving your turtle a sense of security.

If you have a pond (and, if you do: More power to you!) it would be a good idea to make an area where your turtle can exit the water. Now, when I say this I'm not just talking about a basking log or small island. I mean an area filled with dirt, plants, grass, etc. We'll discuss this more, next.




Interaction
Not all turtles will tolerate being touched. In fact, most of them seem to hate it. But, there are a few turtles out there that like having their shell scratched. I find that rubbing my turtle's shell with the tips of my fingers or a soft toothbrush can bring fourth the funniest reaction ever seen!

Just because your turtle doesn't want to be touched doesn't mean you can't interact. Wiggling your fingers outside their tank and getting your turtle to chase can provide the same amount of pleasure as playing fetch with a dog. Discovering your turtle's favorite color can make your baby more excited about this game if you get them to chase that color ball, marble, whatever!


Outside time
Like touching, most turtles don't like being taken out of their tanks. But, some turtles do enjoy a brief romp outside. Never leave your turtle unsupervised when outside their environment!! If your turtle shows signs of stress or displeasure place them back in their environment immediately!


Food
One of the best mediums for turtle enrichment is food! Turtles love food (Don't we all?). So, it's good to give your turtles fruit and vegetables of different colors and textures. You will quickly learn which are your baby's favorites. Tomatoes, strawberries and lettuce are not only good for your turtle physically, but mentally. But, it's good to try to mix it up. If your turtles are like my turtles they'll also love mango, bananas, boiled chicken (VERY RARE TREAT), and krill.****
Remember, you want to encourage your turtle to be a turtle. Being in a tank doesn't make it a fish. And, begging doesn't make it a dog. Every pet has special needs and it's up to you to make certain that your pet is the happiest and healthiest it can be.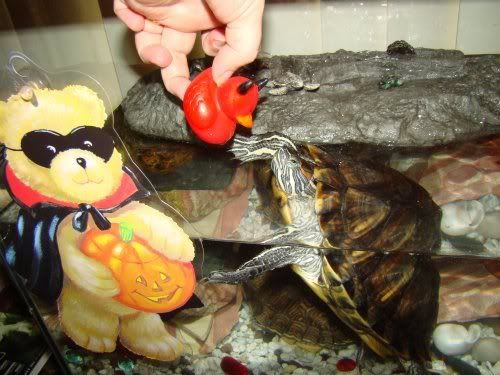 * "The benefits of pet ownership are real -- physically, mentally and psychosocially," confirms Dr. Daniel Joffe
** Turtles, like people, have different needs and personalities. Some of these activities may stress your turtle and should be avoided at all costs!
*** Tadpoles are generally frowned upon. But, I get mine from a local creek. I feed them fish food for a week keeping them quarantined for a week before placing them with my turtles.
**** Fresh foods are best for your turtle. Never feed your turtle anything with MSG, seasoning, butter, ect.
Animal Enrichment Program - animalenrichment.org
Having a Pet is Good For Your Health